Create business applications
superfast

in an all-visual way

everyone understands
Simply draw your solution without writing any code
Centrldesk is the no-code workplace innovation platform built for business users. Create powerful web applications to streamline your operations.
Simply draw your solution in an unique all-visual way everyone understands.
Enjoy all features you need like user interface designer, app integrations and smart document creation in one platform to build your processes customfit superfast.
Experience your web application while building in real-time.
Create web apps in minutes. No coding required.
Create your applications step-by-step in guided drag and drop editors. See the behavior of your app by sample data and previews in real-time while building.
Centrldesk is a game-changer for businesses of all sizes. Share your applications for use across your organization, with your teammates or with your customers.
Easy to use
Simply create your own business solutions

Pages
Create user interfaces to get input, select data, show charts and data tables, perform actions, and guide your teammates.

Databases
Integrate or connect your data in flows and make your systems work together in your daily business.

Flows
Build flows to show forms, connect data, create documents and turn them into shareable applications.

Logic
Create your own logic. The Block libraries include many functions for math, text, date and more. See your logic in action with live preview values in real-time.

Documents
Import your documents, turn them into smart templates, generate auto-filled documents as pdf or docx and send them in the next flow steps.

Integrations
Use your existing data in Centrldesk, whether the data is in the cloud or on-premises. Centrldesk offers connectors.
Templates
Get started quickly
Create apps right away using prebuilt templates. Find a template, make it your own and start building your application.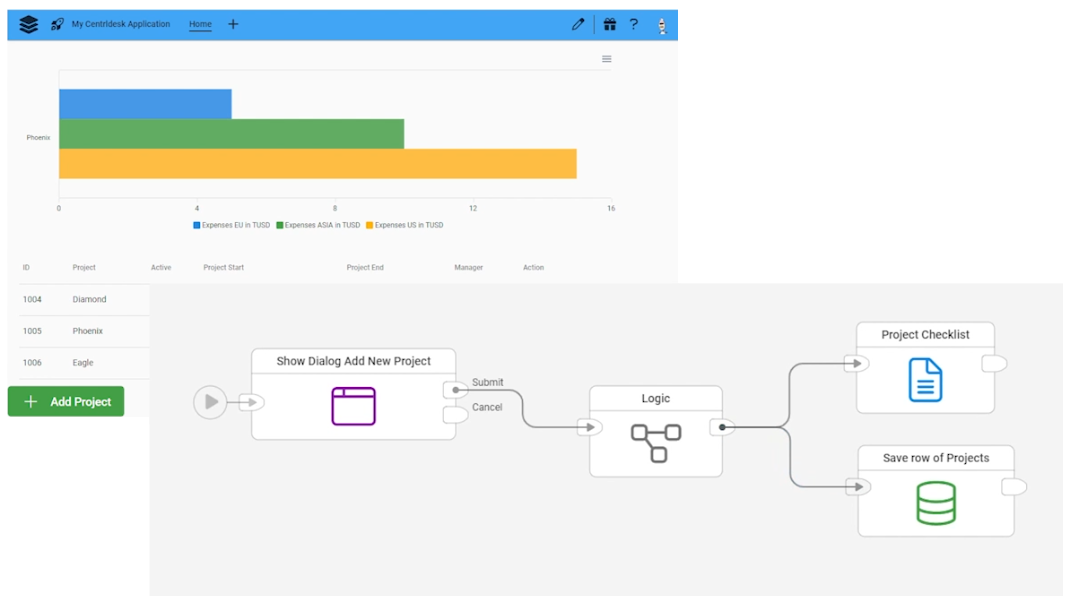 Take Centrldesk for a spin
Centrldesk is free to use for teams of any size - we also offer paid plans and additional services.
Create your account now and start empowering your workflows.
Get started free | No credit card required
Subscribe to our newsletter
Stay up to date on upcoming news and topics of creating web apps without code.